Coming Soon: Baby Boy Carter!
After finding himself near the bottom of the judges' leaderboard last week, we had no doubt that Nick would work extra hard this week to get back on top. This week's Dancing With The Stars theme was Icon Week, referring to people who influenced or inspired the celebrity. Knowing Nick's song was "Can't Help Falling In Love", we already had a good idea who his icon would be.
In the past, Sharna Burgess has been known to choreograph contemporary routines that move people and tonight was no different as Mr. Carter had a big announcement to make. During the DWTS All Access tonight before his performance, Nick and Lauren revealed that rumors are true and a Carter baby is coming soon! He also revealed that he would indeed be using his contemporary routine to honor his wife, who he described as "the woman of his dreams" and credited her with changing his life.
Baring his soul in the opening package, Nick and Lauren revealed that after suffering a miscarriage earlier this year, they couple is now 16 weeks along! The dance was FLAWLESS. Barefoot and emotional, Sharna helped Nick tell his story through dance, leaving everyone in tears, including Nick himself. Following the performance, he ran over to Lauren and the emotion in the room was powerful.
Carrie-Ann Inaba told Team SharNick that they took her breath away, while Julianne commended Nick for being a real dancer this week. The hardwork paid off as Nick and Sharna then received their first perfect score of the season, rendering a still-emotional Nick speechless.
As if this weren't enough, there was also a surprise gender reveal! Nick and Lauren opened a huge box to reveal blue balloons and that their new addition, due in the Spring, will be a boy! Could this night get any better?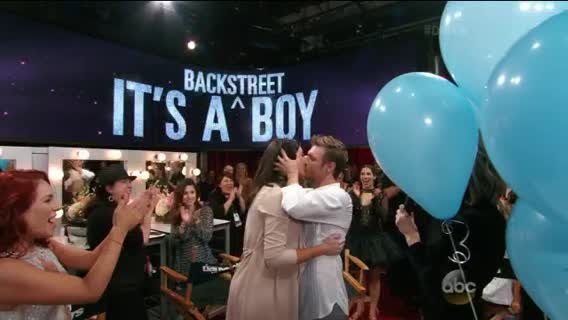 To answer that question – yes. Nick and Sharna, receiving the highest scores for the night, also received immunity for this week and 3 extra points on their score. This Monday could not get any better for Nick Carter!
Re-watch the dance that left the ballroom in tears and leave your congratulations messages for Nick and Lauren in the comments below!