A Very Merry Nickmas Update!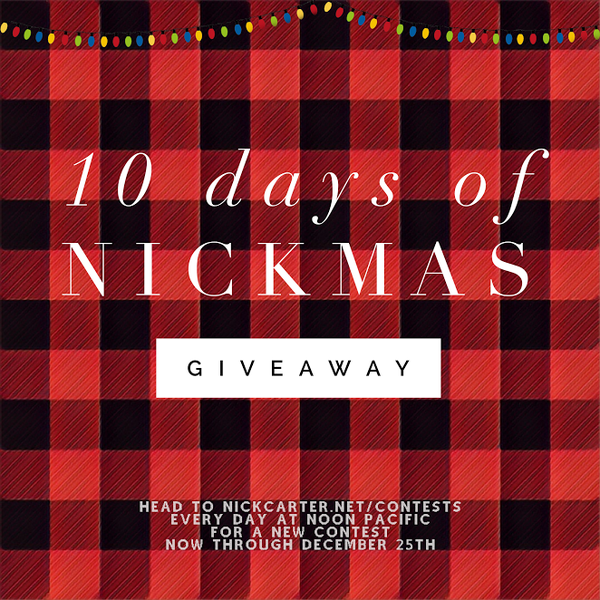 The first annual Nick Carter Nickmas celebration is in full swing! With 5 days in and 5 days left, there are still plenty of gifts to be given and already some very lucky fanclub winners. Please help us congratulate the following on already winning their Nickmas items:
Janelle Olchowski
Rachel Chan
Rachell Polleys
Jodi Trimble
Shannon Sour
Rose Smillie
Amanda Olivieri Reis
Lenore Crowder
Ellen Broekema
Tricia Doucet
Lissy Glover
Miriam Peluso
Rossy Espinoza
Vanessa Martin Roy
Jessica Johnston
Camilla Guilhem Barbosa
Maria Dolores Dino
Grace Leon
Nicole Davis
Crystal Miller
…plus everyone Nick followed on Twitter on the first day. What a way to kick off our new favorite holiday, right?
If you haven't joined in the festivities yet, there's still time! Everyday at 12PM PST, Nick will be gifting a new item. You must log into the fanclub, click on the 'Contests' tab, and click 'More Info'. From there, you will see a button that says "Sign Up For This" – all you have to do is click to enter. The contest closes everyday at 5PM PST, which gives you five hours to enter.
You DO have to enter every day for each item that you would like to be entered to win. You will be notified on the same day if you win. Only enter for items that you would like to win because once you win, you cannot enter to win again.
While we're sad that Nickmas is halfway over, we're super excited for you to see what the next few days have in store! Trust us – it's worth celebrating.
If you have any questions, please visit the 10 Days Of Nickmas thread in the forums and continue to spread the Nick Carter holiday cheer by using the #10DaysOfNickmas hashtag on social media!
Happy Holidays and Merry Nickmas