2016: The Year Of Nick Carter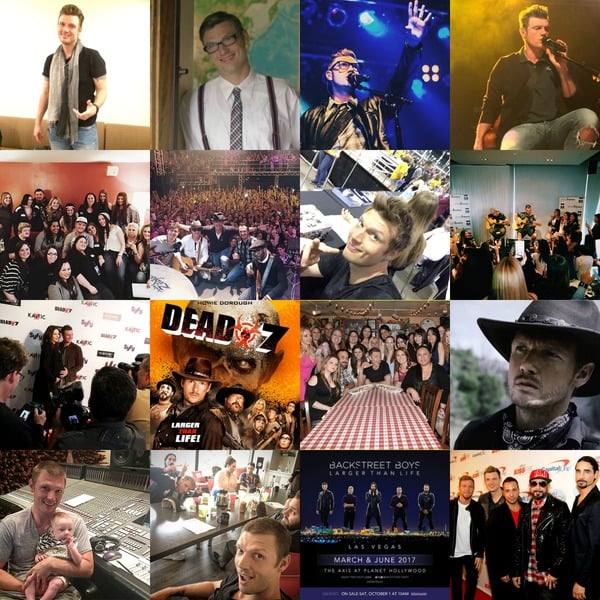 While 2016 might not have been the best year for everyone, it was definitely a good year if you're Nick Carter or one of his fans! From beginning to the end, Nick OWNED this year. Let's talk a walk down memory lane, shall we?
February 2016
After releasing All American in Japan in January, Nick hit several spots in the country to do some promoting and meeting fans, performing many of the songs on the album for the first time ever. By mid- February, he hit the road with Riley Biederer opening for him. His first solo tour since 2012 kicked off in California to a nearly sold out crowd.
March 2016
23 cities, a few lunch dates and afterparties later, the All American tour ended in Nashville, TN with two unforgettable back-to-back shows. Little did we know, it wouldn't be the end!
Nick also made his first con appearance at Salt Lake City Comic Con to promote his movie Dead 7, which would premiere a week after tour ended.
April 2016
After treating fans that contributed to the Dead 7 indiegogo campaign to lunch in LA, Nick hit the red carpet on April 1st with cast mates and friends to finally premiere the movie we had all been anxiously waiting for. Many of us watched from home on Syfy as it premiered in different parts of the world for the next few months. One thing is for sure – fans were never prouder of Nick Carter.
The month ended with the birth of Odin Carter, who Nick and wife Lauren would both gush about on social media and on tour throughout the rest of the year. How could you not?!
He also brought his artwork back to the forefront, auctioning off several pieces for charity and donating the funds to children's cancer research.
May 2016
After playing in a celebrity golf tournament to benefit the LAPD, Nick flew overseas with the rest of the Backstreet Boys to set sail for their first ever European cruise. The sold out cruise hosted fans from all over the world and was definitely one for the book, marking one of the first times we saw all five Backstreet Boys together in 2016.
June – July 2016
Along with a few more Con appearances and a performance with BSB at KTUphoria in New York, Nick continued the All American tour in July in South America, kicking it all off in Bogota, Colombia. Fans in South America flocked to the airports to greet him, lunch events for snacks and selfies, and the concerts, of course. Perhaps the highlight was Nick's appearance on Legendarios in Rio, which happened after hundreds of fans tweeted using a hashtag the host created to invite Nick to be on the show. You can check out FC exclusive photos here.
August 2016
With Nick back in the studio with the Backstreet Boys and releasing a song with Florida Georgia Line, one might have thought the All American tour era had ended. That was not the case, however, and Canadians were pleased to hear that Nick was coming back for one more round in a 10+ city tour in November. The man is UNSTOPPABLE!
September 2016
One word – Vegas. September was the month that every Backstreet Boys fan had been wishing for since rumors of a test residency in Vegas had begun to swirl earlier in the year. In a surprise appearance at the iHeartRadio festival, Nick and the Boys confirmed that they would indeed be playing a run of shows at Planet Hollywood in Las Vegas from March to July 2017. If you haven't gotten your tickets yet, get them quick. This run of shows is said to be one of the quickest selling in recent Las Vegas history and currently the only thing the BSB have on the books as a group next year.
November 2016
Nick went back out on the road solo for the last time this year in Canada, hitting smaller cities as well as the usual, much to the delight of fans that wouldn't have normally gotten the chance to see his show. Fans that purchased Ultimate VIP were treated to hang time on Nick's bus before the shows and the concerts, with opening acts Dan Talevski and The New Electric, were stellar. It was really the perfect way to end an already amazing tour.
December 2016
Nick ended the year with a series on iHeartRadio JingleBall shows in select cities with the Backstreet Boys to promote their upcoming Vegas stint and, honestly, to blow the roofs off a few arenas. Concert goers young and old lit up social media with props to the group and were seen literally buying tickets to the Vegas shows at the end of the group's sets. In between shows, Nick was voicing his opinions as a fan himself, speaking with several sports outlets about the way his Tampa Bay Bucaneers are performing this season.
Oh, and there was a little thing called Nickmas, which allowed fans to win things from Nick Carter in the spirit of giving and the holiday season. Even when he's not on tour and doing appearances, Nick is still thinking of fans and doing what he can to bring everyone closer together!
This amazing year would, of course, not been possible without the support of so many fans around the world. You've shown up to concerts and appearances. You've liked, shared, and tweeted on social media. You've watched Dead 7 on repeat. You've joined the fanclub and socialized with other members.
You've supported Nick in every possible way and YOU have made it the year of Nick Carter. Share some of your favorite 2016 memories in the forum here or write a blog! We want to relive it all with you.
Can't wait to see everyone in 2017! Things are only going to get more awesome and, shall we say, larger than life.