Nick Rings In The New Year With The Backstreet Boys (And The Chainsmokers)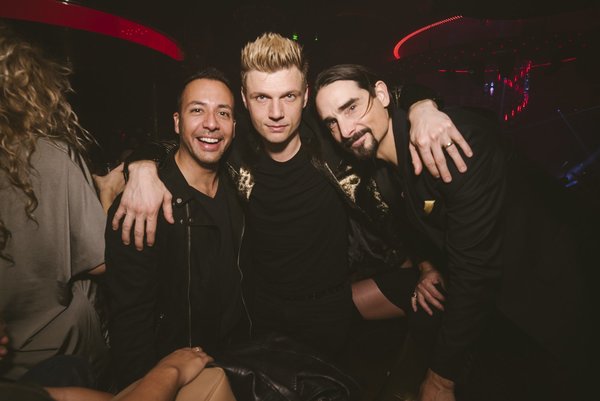 In what was such a huge year for Nick Carter, there was really no better way to end it (and ring in a new year) than with the Backstreet Boys and a few of their famous friends.
He hit the stage with Brian, Kevin, AJ, and Howie as surprise guests at The Chainsmokers largest show yet at Los Angeles Convention Center on Friday night. The Chainsmokers, one of the most popular duos of 2016, played a Jingle Ball show with the Backstreet Boys just weeks before and were thrilled to have them at their own show, tweeting afterwards, "A massive thanks to the Backstreet Boys for smashing it so hard! Yall stole the show!" If you haven't yet caught the performance online, you can check it out here.
Following their crowd pleasing appearance in LA, Nick and the rest of the group jetted off to Las Vegas, where they rung in the new year at Caesars Palace for a group of elite reward members, along with Calvin Harris DJing. After their performance, Nick, Kevin, and Howie hit OMNIA, one of the hottest nightclubs on the strip, joining Harris in the DJ booth to kick off 2017 in the best way.
Oh, and if you're looking for a place to dine before you check out the BSB Vegas shows beginning in March, you might take a tip from Nick, who hit Nobu with Howie D. before their show.
If this weekend was any indication of the year Nick Carter will be having, we couldn't be more excited to be here for it! If you haven't gotten tickets to see the Backstreet Boys together in Vegas (starting in less than two months) yet, get them now.
Just because this is a huge year for the group does NOT mean, however, that Nick won't be doing solo things as well and exclusive fun for FC members. Keep your eyes on nickcarter.net for continuous updates throughout this year. We've only just begun!