Backstreet Takes Over Vegas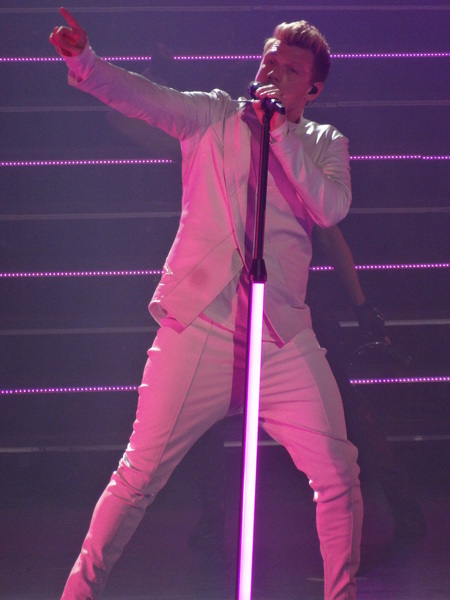 The Backstreet Boys have been in Las Vegas for two weeks now with every night being sold out or nearly sold out. In fact, in addition to being the fastest-selling residency in Vegas history, Axis Theatre is opening up balcony seating to accommodate more people for the first time. To say that this venture is larger than life is actually an understatement.
One might wonder if, after touring solo for almost a year, if Nick Carter would have a hard time getting back into the groove of being with a group again. The answer is a resounding NO. 2016 was a year filled with conventions, Dead 7, All American and a new baby for Carter, but 2017 has brought back the Backstreet Boy… and he's better than ever.
If you haven't seen the show already, let us tell you that it is beyond anything the group has done in the past and Nick knows exactly how to bring the fire to the stage every night. From beginning to end, his energy and powerful vocals combined with that of the other four Backstreet Boys makes us remember why the group has been so incredibly successful for the past (nearly) 24 years. Oh, and that time spent on Dancing With The Stars is visibly beneficial.
"Just like Nick doing Dancing With the Stars; when he returned to us, he picked up the choreography faster than he ever has before. When we do step out and do things, we can come back and are a stronger link in the chain," the other Backstreet Boys noted in a recent interview with Las Vegas Review-Journal.
So how does Nick feel about the show?
"…We pride ourselves in making sure that when we hit that stage, it's something that people can remember and it's a representation of an era," he says. "This is like Christmas for us. It's like a Christmas present that we get to open up." [Read the entire interview with Marie Claire here]
For some extra reading, you can also read this fun interview with Elle where Nick and the rest of the Boys divulge on how they feel about new boybands and where they are today.
Can't make it to Vegas? Nick will also be appearing with the Backstreet Boys at three Florida Georgia Line stadium shows this summer in Boston, Minneapolis, and Chicago.
Can't make it to any of those shows either? Check out the Academy of Country Music Awards on April 2nd at 8/7c on CBS to see the Boys make their ACM performance debut with the boys of FGL.
As always, keep your eyes on nickcarter.net for any Nick Carter exclusives. You never know where he might pop up next! Oh, and if you have been to a Vegas show, tell us what you think in the blogs and forums sections of the FC. We can't wait to hear!