WATCH: The Backstreet Boys + Florida Georgia Line Burn Up The ACM Stage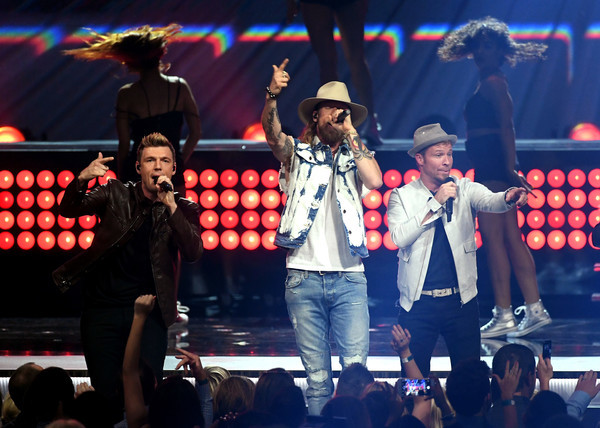 One quick search for the Academy of Country Music Awards last night and you will very clearly see that the Backstreet Boys stole the show in their debut performance with Florida Georgia Line. First performing their single, "God, Your Mama, and Me", with the country duo, the two bands had the crowd singing along… before they burst into "Everybody (Backstreet's Back)". Billboard.com is even ranking their performance as the #1 performance of the night.
Everyone in the Las Vegas T-Mobile Arena was brought to their feet, rocking their bodies and singing along like it was 1999! Nick Carter could be seen with his bandmates, running through the crowd, hyping everyone up before both groups hit the stage to perform the iconic "Everybody" choreography. It must have been quite a flashback for Joseph Kahn, who directed the video the music video back in 1997 and was sitting (or dancing) in the audience.
When we say that everyone was feeling the Backstreet + FGL magic, we DO mean everyone, including Carrie Underwood, Keith Urban, Faith Hill and Nicole Kidman. Perhaps no one was more excited than Tim McGraw, who seemed more than happy to watch the Boys perform (and maybe a little jealous that he wasn't in Florida Georgia Line).
If you missed the performance, catch it below (thanks to GossipCop)!
The Boys also did a few radio press stops with Florida Georgia Line this weekend before the show. You can listen to Nick explain how the collaboration came to be here.
What was your favorite part?!