'Boy Band' Premieres And New Stars Are Born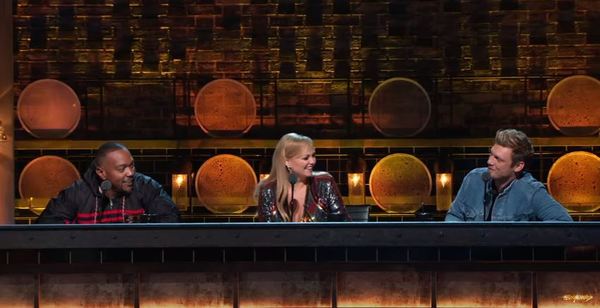 Ever since The Beatles, loving a boyband (and staying loyal) has become a rite of passage for any teenage girl. It only makes sense that Nick Carter, being a boybander for 24 years, would have a hand in selecting members of the next great group of singing, dancing, charming idols on ABC's new series, Boy Band.
While the Backstreet Boys themselves had to come to terms with the title of "boyband", Nick reveals to The Wrap, he believes there's a reason the world needs such groups. "Maybe this is even a little bit more — even deeper, philosophically — but maybe the way that our world is right now, boy bands are very innocent. Maybe people just want to connect with something that makes them not just feel young, but also makes them happy," he stated ahead of last night's show.
The two-hour Boy Band premiere gave us a taste of the talent and hard choices that lie ahead for Nick and other architects, Emma Bunton and Timbaland. Cutting the group of contestants from 30 gentlemen to 18 was tough and the first point of contention we saw between the three, who serve as judges and mentors. It seems though, that they are all clear on at least one thing - they're looking for a band that will last. As Nick said, a band of brothers.
The show went over well with viewers trending #BoyBand on Twitter for hours after it ended. In case you haven't watched yet, we won't spoil it for you – click here for the recap and breakdown from Hollywood Life.
If you missed the episode, you can catch it here, then tune in next week to find out who else makes it a (dance) step closer toward their dream.
What did you think about Nick's debut as architect? Who are your favorite potential boybanders so far? Sound off in the comments and join the conversation with other fanclub members in the forum!
Nick will be in New York next week to promote Boy Band (and more) on Monday on Build on AOL (Watch here at 2pm EST) and Good Morning America on Tuesday morning. Be sure to tune in!
For now, check out Timbaland's Backstreet moves. We think he's been practicing!