A Vacation, A Prom, And A 'Dead 7' Reunion
Soon after the new year began (and after playing to sold out crowds for two nights with the Backstreet Boys in Cancun), you could find Nick spending his off time on a much needed vacation with his family, snowboarding down the snow covered slopes and taking cute snaps of his growing son.
That was the case until this past Saturday night.
Nick and wife Lauren were among the partygoers at AJ McLean's 40th birthday surprise party, which happened to be 80s prom themed. The couple looked the part, with Nick in a suit and bowtie and Lauren sporting a short black dress and leather jacket.
When it came time for speeches, Nick followed fellow bandmate Brian Littrell in sharing a sweet sentiment for McLean. "I've loved you since I met you," he started. "Ever since you burnt my comic book when I was a teenager. It doesn't matter because, honestly, you're one of my favorite people on this planet. I love you so much. You're my brother and I wouldn't miss this for the world." Nick finished his speech by leading the rest of the crowd in singing "Happy Birthday" to the newest member of the 40 Club.
There were quite a few other familiar faces in attendance, including Carrie Keegan, Jeff Timmons, and Erik-Michael Estrada, marking the first reunion of Dead 7 cast members since the red carpet premiere nearly two years ago. See the photo below!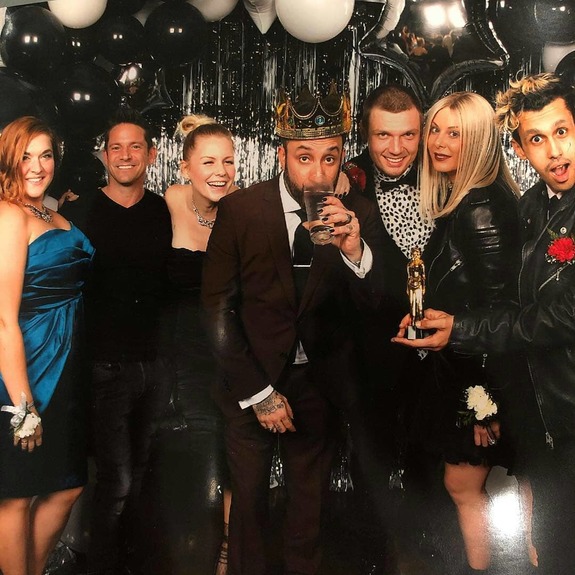 Nick is currently working on getting into the best shape ever before the Backstreet Boys return to the Axis in Las Vegas in two weeks. You can follow his gym adventures on his instagram or see him live – check out the dates here.