38 Facts About Nick Carter on His 38th Birthday!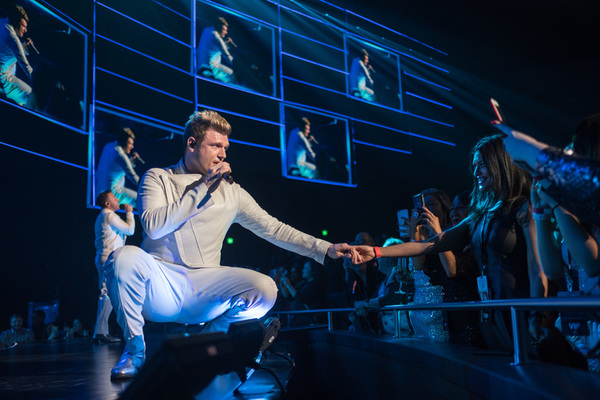 On January 28, 1980, Nick Carter was born and… well, you know the rest.
Or do you?
For his 38th birthday, we've compiled a list of 38 facts about our favorite Aquarius. Some you may know and some you definitely don't (because Nick just shared them exclusively for this post)! Read through them all to learn more about the birthday boy and to find out how YOU can celebrate his birthday with him this week in Vegas. Trust us when we say, you'll want it that way - because you can't even imagine how fun it's going to be.
Don't forget to leave your birthday wishes in the comments (or tell him in person in Las Vegas)!
1. Nick has spent 25 out of his 38 years on Earth as a Backstreet Boy – over ¾ of his life! With the group, he has headlined 10 world tours, co-headlined 2 tours, and is now performing with them in a wildly popular Las Vegas residency at Planet Hollywood! Have you seen a show yet?
2. One of the happiest days in his 38 years was the day his son Odin was born in 2016.
3. Dead 7 wasn't the first movie that Nick worked behind the scenes and in front of the camera on. In 2010, he made his directorial debut, wrote, produced, casted and starred in the short film, The Pendant.
4. Nick has three solo albums, with increasingly more writing credits on each one. His last album, All American, was finished in a matter of weeks and kept him on tour for the majority of 2016.
5. He really misses playing drums.
6. It's no secret that Nick is a diehard Tampa Bay Buccaneers fan, but did you know that he performed with the cheerleaders as a child in Houlihan Stadium?
7. Nick is also "confident that the Bucs will play in the Super Bowl in the next 10 years."
8. After being diagnosed with cardiomyopathy in 2008, Nick started making fitness a huge part of his life and often shares his work outs and the foods he's eating via social media, encouraging others to do the same. He even took part in the Kitt Fit video series online with his now-wife, Lauren.
9. Speaking of social media, Nick shared that his favorite social media platform is Instagram and that he's trying to get better at using it to communicate with fans.
10. But he still loves talking to everyone on Twitter!
11. …But he's never been a fan of spam on Twitter.
12. A question he hates? "'Why are you ignoring me?' Because I'm not ignoring anyone."
13. VIP is one of Nick's favorite things to do on tour as it allows him to meet fans from all over the world. He's always thinking of ways to interact more with fans on tour which, on the Nick & Knight and All American tours, included events like brunch before the show, hanging out on his tour bus, playing laser tag together and more.
14. In 2014, he joined forces with NKOTB's Jordan Knight to form Nick & Knight, releasing an album and going on tour between legs of the Backstreet Boys' tour. It's normal for him to have several projects in the works at once!
15. Nick has admitted to being starstruck by a few celebrities, but Michael Jackson was a big one.
16. Not only has he mastered the performing arts, but Nick has been known to draw and paint in his spare time as well. Last year, he auctioned off a few of his art pieces to benefit child cancer research and treatment.
17. Something he'd like to get better at? Drawing. "I would love to...work on another comic one day - Stan Lee was incredible to work with."
18. Video games are still a passion of his as well.
19. Duke Nukem, Mortal Kombat, and World of Warcraft are among Nick's favorite video games. A few years ago, Nick connected with fans via WoW, starting games together.
20.. Who inspired his infamous bowl cut in the 90s? Kurt Cobain. "I was trying so hard to be rock n roll but not sure if I succeeded
21. Admittedly, he sometimes misses his Blackberry.
22. Nick was the runner up on season 21 of Dancing With The Stars, but it wasn't his first time being taught how to dance. He began dancing before joining the Backstreet Boys in dance classes in Orlando, FL. When his former dance teacher retired last year, he sent a very sweet message, crediting her with his moves.
23. In 2009, he became the first and only Backstreet Boy so far to launch his own fan club for fans to keep up with his solo ventures as well as have a place to "hang out" with Nick himself. Since the launch, Nick has written blogs, posted videos, designed exclusive merchandise, scheduled video chats, and interacted with FC members on a regular basis. If you're not a member yet, you can join here!
24. Nick recently moved to Las Vegas to be able to drive to work during the Backstreet Boys' residency. He has said that he loves the city because the energy / vibe is like no other - offstage and onstage.
25.It was Nick's idea for the Backstreet Boys to stay together in a house in London to write and record for their latest album, In A World Like This, their first one since Kevin Richardson rejoined the group. Currently, they are in the studio recording their 10 album.
26. A big believer in "you'll never know if you don't ask", he has been known to reach out to other celebrities via Twitter to inquire about interest on collaborating on different projects.
27. In the early 2000s, Nick started a fan-favorite web series on the BSB fanclub entitled "Nick's Corner", showcasing life from the road and giving fans an exclusive behind the scenes look at everything from how he was spending downtime to what things looked like from the group's point of view. When asked last year if the series would ever return, he answered that it was definitely something he wants to do, but it's a matter of finding time.
28. Nick was responsible for coming up with concepts for two of the most iconic Backstreet Boys' music videos - "Larger Than Life" and "Everybody (Backstreet's Back)". These videos were also directed by Joseph Kahn, who is now a huge name in the industry.
29. While thought of as a romantic song, "I Got You", one of Nick's most popular solo songs, was actually written by Max Martin when his daughter was born. On the 2016 BSB cruise, Nick got emotional singing it for the first time since his son was born.
30. When asked about a theme he would like to see on a future BSB cruise, Nick said that he would like to see something with superheroes.
31. Nick's acting roles have gone beyond movies and reality shows with appearances in multiple TV shows, including 8 Simple Rules and 90210. He would like to do more acting, but the group's schedule is usually too busy to commit to a long shoot.
32. Kevin Richardson gave Nick the book Why Some Positive Thinkers Get Powerful Results. He credits this book as part of the reason he turned to a healthy lifestyle and also wrote his own autobiographical self-help book, Facing The Music, in 2013.
33. Nick loves the ocean and has been involved with United Nations Environmental Program and the Coral Reef Action Network in the past.
34. Do you believe in ghosts and aliens? Nick does.
35. He may see thousands of fans yearly, but he tries to make an effort to remember names - sometimes by associating them with things he will remember. Don't be surprised if Nick remembers your name or Twitter handle!
36. Nick says that he's "learned a lot in his 30s."
37. Birthday cake is one of his favorite parts of his birthdays.
38. Nick celebrated his 32nd and 33rd birthdays in Las Vegas and for his 38th, he will be too! This time though, he's inviting fans to join in. The party is happening on February 1st from 5p-8p at Top Golf and it's going to be an event that you will NOT want to miss! Get your tickets here before they're gone.