BSB Cruise 2018: Nick Sails Away With Fans For A Weekend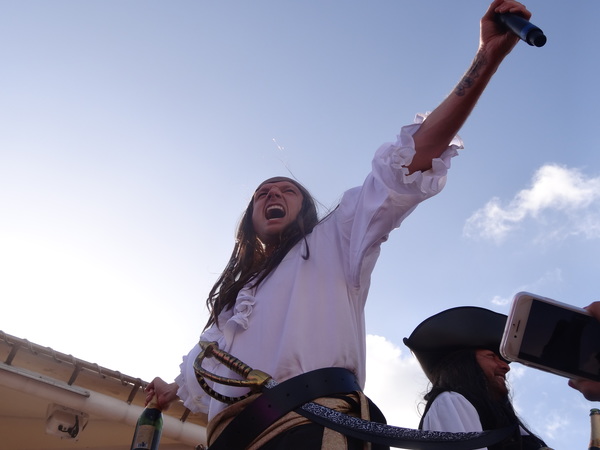 As you may have heard by now, the 2018 Backstreet Boys cruise was one for the books!
From stellar events with the Boys performing songs that fans haven't heard in years to the theme night costumes (Nick being a pirate, Thor, a nerd, and Baby Spice all in a matter of days) to pool dives, game shows, and more, there was certainly no lack of entertainment on the ship.
As per usual, Nick made the most of his time with fans. Before the cruise even set sail, he took the opportunity to hang out with fans at a pre-cruise event at Hard Rock Cafe, where he took photos with fans before hitting the stage to perform a few songs from his All American album and give a bit of advice for cruising ("Stay hydrated!"). If you were a VIP at the Sail Away With Nick Carter event, you can find your photos here. [To download an HQ version of your photo, copy the image URL > Change the word 'large' to the word 'original' in the URL > Save As..]
The fan festivities with Nick didn't stop there though! Within an hour of being on the cruise, he tweeted out for fans to come find him somewhere on the ship and he would reward them with a selfie. Minutes later, he was found wearing a staff shirt and mustache by the pool and, as promised, took a selfie with anyone that found him. Days later, he would quietly start another selfie line in the cafeteria and as word spread throughout the boat, Nick stayed taking photos with fans for hours, only stopping for restroom breaks and eventually, to head to the Storytellers concert.
From fans jumping into the pool with Nick mid-deck party to everyone who got to compete in BSB HQ Trivia, there are moments and memories made that won't soon be forgotten from the four days at sea this year! You can check out more cruise photos here.
FANCLUB MEMBERS: The Spotlight Story topic this month is about your favorite Nick cruise memories. If you have new ones (or old ones), don't forget to enter here.
The cruise might be over, but it's only the beginning of a busy time for the Backstreet Boys, who will be releasing their new single this week - May 17th, to be exact! Are you (more than) ready for it? Get ready to stream it, play it loud, and request it on your local radio stations.
Stay tuned for all of the updates! You don't want to miss it.