Experience BSB In A New Way At The Grammy Museum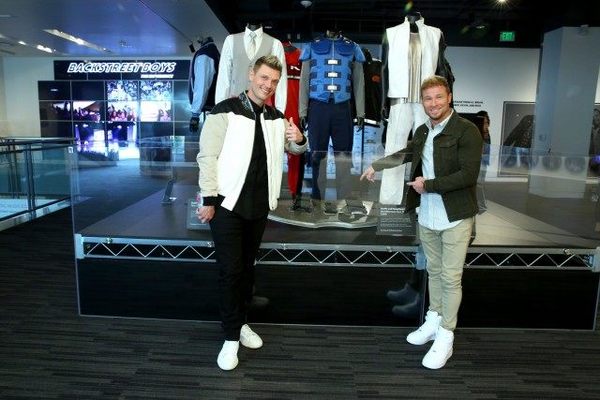 We're weeks away from the Backstreet Boys 26th anniversary and from today until September 2nd, the Grammy Museum in Los Angeles, CA is giving you the opportunity to travel through Backstreet history with Backstreet Boys: The Experience.
"We had to dig into some of our old warehouses and storage units to find some of these things that we didn't know existed anymore...We put together a great collection of things that I think people will be able to remember and recall, and celebrate with us." Nick told Entertainment Tonight on Monday night as fans and media were let in for a sneak peek into the exhibit.
Among the treasures to be found in the Backstreet exhibit are old tour and music video wardrobe, momentos from the Boys themselves, tour props, and so much more. The experience wouldn't be complete, of course, without the Backstreet Army, many of whom have a photo displayed on the "fan wall" among BSB records in the museum. There is also a few interactive aspects, include a Backstreet confessional, inviting fans inside to send a message directly to the Boys, and a mosaic where you can use the hashtag to have your photo printed and placed on a wall that plays a small part in a larger mural. You can purchase tickets for the Experience here.
The group took time out of their busy schedule to also sit down for an intimate Q&A at the Grammy Museum with JoJo Wright, which you can watch here, answering questions about the group's history, memories and more (like dropping a Christmas album).
Upon reflecting on the band's 26 years together, Nick told Billboard that "it's satisfying and exciting, because you work so hard after so many years. We never really expected it. We don't ever expect anything that's been given to us or that happens to us. We're just kind of living in the moment."
And there's a lot of moments left to live! Nick, along with Kevin, Howie, AJ, and Brian, head back to Zappos Theater tonight for the first of their last nine shows at Planet Hollywood in Las Vegas before headed overseas in May to kick off their DNA World Tour - their largest in over a decade. To see dates for the tour that Nick described as "everything you want to see from the Backstreet Boys... fresh, explosive and entertaining" and check out tickets, click here.
If that weren't enough, the BSB performed on Jimmy Kimmel Live last night before heading back to Las Vegas. If you missed the performance, you can watch it (and a bonus performance) below.