TOUR: The BSB 'DNA' Era Kicks Off in Europe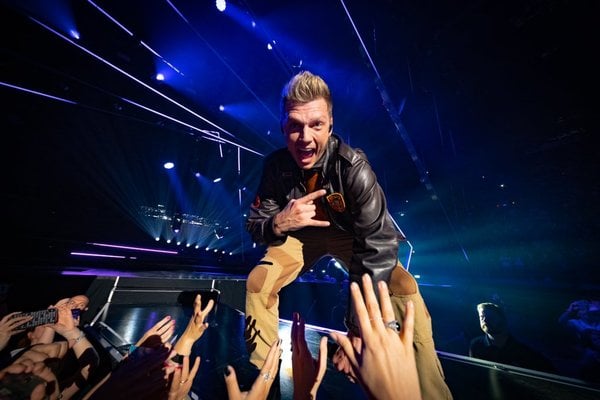 Backstreet Boys. Backstreet's Back. Millennium. Black & Blue. The Hits: Chapter One. Unbreakable. This Is Us. In A World Like This. BSB Vegas.
DNA.
The Backstreet Boys officially kicked off a new era overseas in Lisbon, Portugal last week and continued into a week of almost all sold-out shows in Spain, Italy, and France. In some cities, fans even showed their love for the Boys' return by getting a number of audience members involved in a larger gesture, with Milan coordinating a massive representation of the Italian flag plus signs that said "BSB is in our DNA" and Parisian fans holding up signs that proclaimed that "You are in our DNA". The show itself, featuring 32 songs from fan favorites to newer material and a stellar production, is winning over the hearts of everyone from fans to critics alike.
Fans have been working hard this tour to show the Backstreet Boys some massive love and appreciation, not only at concerts, but around town as well. Not only have they been waiting to welcome their fave five at airports upon their arrival, Nick took to Instagram while in Italy to show off the number of fans who showed up at local gelato shop, Cioccolaitaliani, just to catch a glimpse of him while he grabbed a sweet treat with his family, who are also on tour with him. "I love you too, Italy," he captioned the photo.
Speaking of family on tour, Nick has been sharing the sweet moments between shows as well as he and Lauren take Odin on this new adventure - his first tour with daddy. Check out a few of their shared memories in Milan, Barcelona, and even a date night in Paris! The Boys recently did an interview with R101 where Nick talks about the kind of dad he has become and how much he loves having his son on tour - watch here.
Between the shows and family time, as you all know, Nick and Howie have also been doing their best to bring the fan-requested afterparties to as many cities as possible this tour. Stay up-to-date on all official afterparty / event announcements by following Nick on social media as well as checking back right here.
With one week down and many to go, we can only imagine the number of memories that will be made on this tour. Where are you seeing the Boys on tour? Drop your answer in the comments below!
Don't have tickets yet? Get them here!
Photo: Justin Segura