Just Announced: More 'DNA' Afterparties + An iHeart Festival Appearance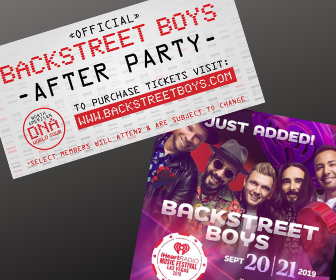 ""It was the kind of evening that could be called a love-in, as band and fans communed on song after song during the generous, two-hour set. They would eventually get to amped-up showstopper Backstreet's Back. Truth is, they never really left."
That is what the Montreal Gazette wrote following the Backstreet Boys' sold out performance to over 16,000 people at Bell Centre on Monday night. Prior to that, more than 50,000 fans showed up to Ottawa Bluesfest for their performance alone and more than 20,000 in the sold out Capital One Arena in D.C. for opening night of the North American leg of the DNA tour.

To say that the Backstreet Boys are off to a fantastic start is a vast understatement. To celebrate this tour's success, keep the party going and spend more time with fans offstage, more official DNA afterparties have been announced! You can purchase general admission and VIP tickets for official afterparties in the following cities:

That's not the only announcement that Nick and his Boys made this week! Nick, Brian, Kevin, Howie and AJ will make a return to Las Vegas for the first time since their residency ended at the iHeartRadio Festival, joining artists like Camila Cabello, Alicia Keys, Def Leppard and so many more. They will also be joining a few familiar faces in Chance The Rapper, who the BSB collaborated with in a Super Bowl commercial this year, and Steve Aoki, who invited Nick to appear with him onstage at OMNIA a few years back before inviting the entire group to his home later on.
The festival runs September 20th and 21st and tickets are on sale now. Can't make it to Vegas this time? No worries! The show will live stream via iHeartradio stations and online at CWTV.com. The show will later be televised on October 2nd and 3rd on CW at 8pm EST / 7pm CST.

Stay tuned to this website and Nick's official social channels for updates from tour and more as soon as they are announced!