"Let It Be Me": BSB Drops New Collab With Steve Aoki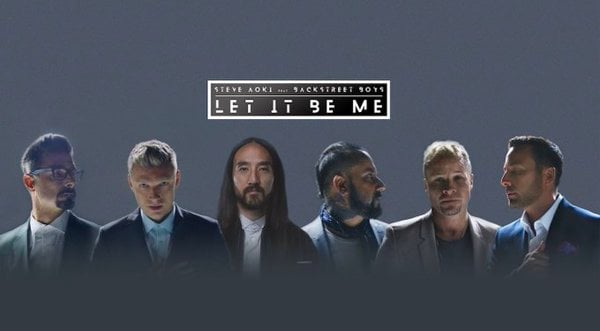 The Backstreet Boys are coming in hot with a new song just in time for the weekend!
It's no secret that Nick and the rest of the band hung out with famed musician, DJ, producer and EDM extraordinaire Steve Aoki a few times during their Vegas residency, leaving many people to wonder if a collab would be imminent.
And now, we finally have an answer. "Let It Be Me", the Backstreet Boys second official collaboration in their 26 year history, has finally dropped and it was definitely worth the wait.
"Being able to work with these guys was so organic and effortless. Collaborating with a group that I've been listening to since I was a kid was such a memorable moment for me," Aoki told Entertainment Tonight. "This song has a beautiful message and relates to a lot of different people overcoming challenges when you love someone, and love always wins in the end. I'm really proud of this one and know it will touch a lot of people."
Over the weekend, it was revealed on a live stream with Nick and Steve Aoki that this song was recorded while the Backstreet Boys were mid-Vegas residency, after Aoki invited Carter to hang out with him during his own show. The crowd singing along to "Everybody" inspired the EDM artist to collab with the group that he's long been a fan of. It seems that the feeling is mutual.
With just under two weeks left on the North American leg on the Backstreet Boys DNA tour, this is the perfect treat for fans and a definite reminder that the Boys are not only here to stay, but continuing to reinvent themselves. Be sure to stream, purchase / download, and share the new song with your friends on social media using the hashtag #LetItBeMe!
Let us know your thoughts about the hot new track in the comments below after you watch the beautiful music video.