Ends And Beginnings: Tour, iHeart Festival and A Baby On The Way!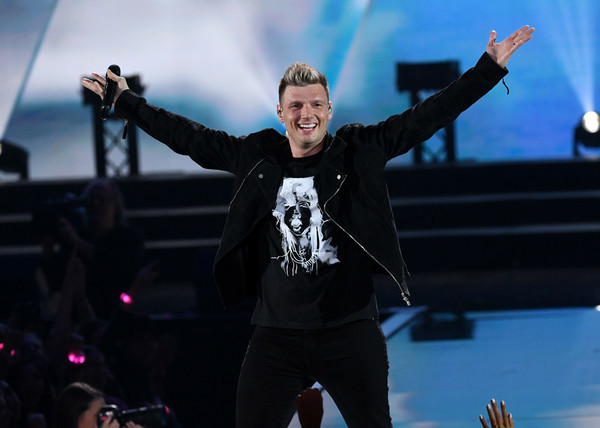 It's been nearly two weeks since the North American leg of the Backstreet Boys 'DNA' tour wrapped, but it doesn't seem like the group is any less busy!
After a full weekend of last shows, including meeting a group of talented individuals from Down Syndrome of Louisville, the Boys ended on a high note - playing to thousands who showed up to their rescheduled Hershey, PA show, which was previously postponed due to bad weather.
"We were not missing an opportunity to come back here and see all these beautiful people in Hershey," Nick told the crowd in the middle of the 33 song set. Lancaster Online noted that when the group joined in harmony, it was "pure bliss", a staple in many of the reviews from this tour so far.
Those harmonies that made the Backstreet Boys famous are on full display on their latest collaboration with EDM superstar, Steve Aoki. The track, which also dropped on their last weekend of DNA shows, quickly climbed the charts, debuting at #1 on the Dance / Electronic Digital Song Sales Billboard chart, #1 on the iTunes Dance chart within 24 hours of release and had Billboard.com calling it "the collaborative track Pop music has been waiting for".
Since "Let It Be Me" dropped, Nick and Steve have not been shy about talking about the origin of this collaboration, admitting that they've both been working on making it happen for a long time.
"Me and Nick Carter, we hit it off pretty good. We were talking for a while and then he came to one of my shows and jumped up onstage with me to do 'Backstreet's Back' and we had this really strong energy onstage and we followed that energy into the studio. We really gravitated to the bare bones of what 'Let It Be Me' was, and they loved the lyrics," Aoki told GOAT.
Nick and the rest of the Backstreet Boys echoed the sentiment backstage at the iHeartRadio Festival last weekend. They talked about what big fans they are of Aoki and how everything came to fruition in an interview with KOST 103.5, before taking the stage with him to perform "Let It Be Me" for the first time live.
Speaking of the iHeart Festival performance, the Backstreet Boys performed their own set, much to the delight of everyone in attendance and the millions of people streaming online, before coming back with Steve and a few VERY SPECIAL guests -- check it out! If you missed the show, the entire festival will air over two nights on The CW next week on October 2nd and 3rd at 8pm EST.
Nick is taking a few weeks off to relax at home before his family of three becomes a family of four really soon ("The nursery is ready!"), but he'll be heading out again on tour before you know it because the Backstreet Boys are already lining up dates through 2020. Check out the newly added (quick selling) dates here!
A few other things to check out while you wait for their return? The Backstreet Boys sit down interviews with
CBS Sunday Morning
and 60 Minutes Australia (below) and
don't forget to donate to their Prizeo campaign for a chance to win a trip to Hawaii with the group
(plus a personalized thank you from Nick).