Nick Carter Puts Piece of BSB History Up For Auction (And A Good Cause)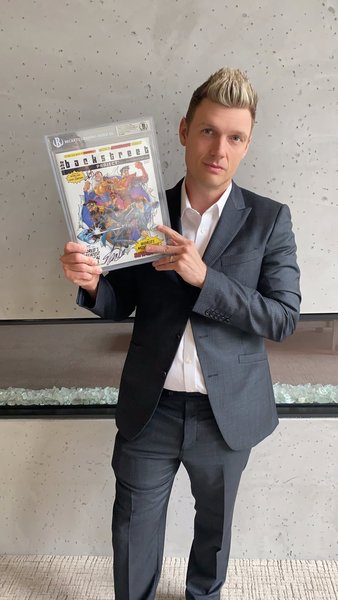 In the year 2000, as avid BSB fans know, Nick Carter teamed up with the iconic Stan Lee and the rest of the Backstreet Boys to create the first and only comic book starring Kevin, Howie, AJ, Brian and Nick as not only boybanders, but all possessing secret powers, known as The Backstreet Project.
The Backstreet Project was sold online, at bookstores and at Backstreet Boys concerts for a few years in the early 2000s, but has since been hard for anyone to get their hands on, due to limited printing.
And that's where Nick comes in!
Tis the season of giving and Nick has put one his own personal copies of The Backstreet Project up for auction. Not only is it his own copy, but it is also signed by all five of the Backstreet Boys PLUS Stan Lee, who passed away last year. The item, which is in mint condition and includes a letter of authentication, is one of a kind, to say the least.
But there's more.
All of the money earned from selling the comic book will be donated to NAMI (National Alliance On Mental Illness) and the final amount will be matched by Nick himself. NAMI is the nation's largest grassroots mental health organization dedicated to building better lives for the millions of Americans affected by mental illness. If you'd like to donate directly to the organization or learn how to get involved in your area, you can do so here and here.
Interested? Place your bid NOW! Bidding will close on December 3rd.
Good luck and may your holiday season be full of paying it forward!