Join Nick for Unplugged Events in Mexico + South America!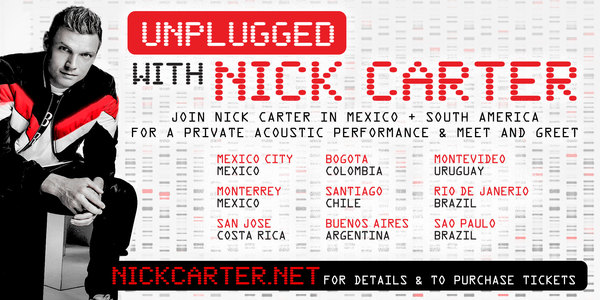 Nick Carter is headed back out on the DNA tour with the Backstreet Boys in less than a month and, as always, he wants to spend as much time as he can with as many fans as possible. What better way to do that than by sprinkling a few solo events in between Backstreet shows?
That's right -- Nick is bringing his guitar to South America and Mexico to serenade fans in select cities. Not only will attendees be treated to a private acoustic set, but a meet and greet as well, where a photo will be taken with you and Nick!

Sound good? All you have to do now is get tickets!
NICK CARTER FAN CLUB presale will take place on Monday, 2/3 @ 9am PST.
TICKETS GO ON SALE TO THE PUBLIC on Monday, 2/3 @ 10am PST.
If you are not yet a fan club member, don't worry! You can purchase your membership here or here and still join in the presale on Monday.
All locations can be found and tickets can be purchased here.
We can't wait to see you!