The Backstreet Boys Bring Concert (+ Story Time) To Your Living Room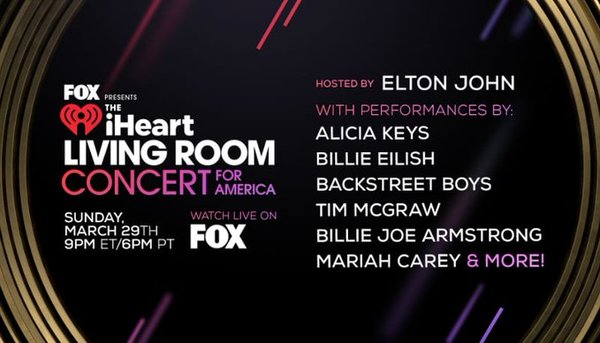 "I stay home for my family. They are my world and I'll do anything to keep them safe. Let's do our part to keep our loved ones safe," Nick posted alongside a photo of he and his family last week after returning home from the Backstreet Boys South American tour a day early due to mounting concerns over the spread of Covid-19.
Since then, Nick has been checking in with fans on Twitter, posting his own moments from home on Instagram, and sharing his gratitude for those working on the frontlines during this pandemic.
This Sunday, though, the Backstreet Boys are doing a little bit more to encourage everyone to stay indoors. They'll be joining artists like Alicia Keys, Billie Eilish, Mariah Carey and Tim McGraw in bringing iHeartRadio's Living Room Concert For America straight to you to enjoy from the comfort of your couch.
All artists performing will be using their cell phone cameras and personal audio to ensure healthy practices. You can catch the hour performance live on March 29th at 9pm EST / 8pm CST / 6pm CST on FOX. Viewers will also be encouraged to donate to Feeding America and First Responder Children's Foundation to aid victims and first responders. For more info on this event, click here. As of right now, we have no information on streaming outside of the Fox app.
Nick, along with Howie Dorough and AJ McLean, have also teamed up with Save The Children and No Kid Hungry to encourage more story time with children during their time at home. You can find the three Backstreet Boys reading the children's book "Clack, Clack, Moo" here. This video, and many others featuring celebrities reading stories, encourages viewers to support the charity's efforts to keep kids' brains and bellies full while they are out of school. You can read more about the #SaveWithStories mission and donate here.
Stay safe and well!