TUNE IN: Nick Carter Is Joining Steve Aoki For Dinner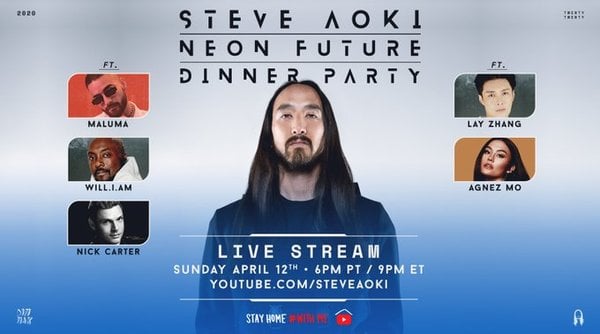 The time of staying safe at home amid the COVID-19 pandemic has brought forth a time where artists are getting more creative about how they bring entertainment to fans. While the Backstreet Boys participated in the iHeartRadio Living Room Concert a few weeks ago, Nick is taking part in a little something extra on Sunday night!
Steve Aoki, who collaborated with the Backstreet Boys last year on the the #1 song "Let It Be Me" and recently talked about his bond with Carter prior to that, is holding a Neon Future Dinner Party on his YouTube channel on Sunday night. The stream, found here (and below), will begin at 6pm PST / 8pm CST / 9pm EST and will feature artists like will.i.am, Lao Zhang, Maluma and, of course, our very own - Nick Carter. Tune in!

The Backstreet Boys have also teamed with with Children's Miracle Network Hospitals for Children's Hospitals Week to encourage people to become changemakers with them. By signing this pledge, you can change the future of kids' health. Find out more about how you can be a part of changing the future here.

In the meantime, there are a few new additions to the Nick Carter Fan Club! All of Nick's IG live sessions from his events in South America have been uploaded to the media gallery here and you can find a new Spotlight Story opportunity in the blog section. Log in and look around!