Join Nick LIVE In The Fan Club This Week (+ Limited VIP Options)!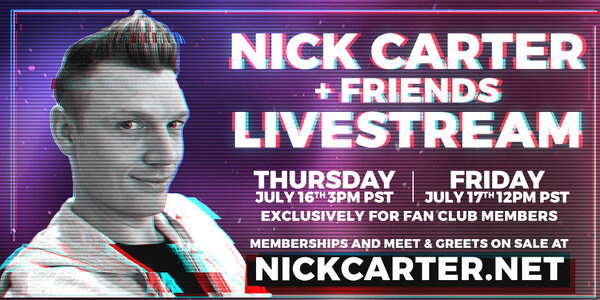 In 2009, Nick opened his own fan club as a place for fans to hang out and dropped in often for chats and streams from around the world. Since the beginning, the look and benefits of the fan club have changed to coincide with tours, new projects, etc., but one thing has always remained and that is Nick's involvement and love for his fans.
This week, he's going back to basics - with a little extra!

On July 16th and 17th, Nick (and friends) will be doing live streams from in studio, exclusively for fan club members. Not a member yet? Don't worry - you can purchase membership here for immediate access to the streams plus other benefits and perks throughout the year! Please note that you do not need anything other than a membership to access the livestream. Details on how to access will be sent to members' email.

The live streams will take place at the following times:
Thursday: 6pm NYC (EST) / 3pm LA (PST) / 11pm London
Friday: 3pm NYC (EST) / 12pm LA (PST) / 8pm London
...But that's not all.
Nick will also be opening up a LIMITED number of meet & greets for each of those days following the live streams, via Looped Live. All you have to do is head to the Nick Carter Event Page, select a date, and purchase for your chance to have a little one-on-one time with Nick!
Once you've purchase the meet and greet, you will get an email in 24-48 hours giving you all the details you need to know.
Oh, and don't forget to grab some Nick merch while you're at it. All merch is 40% off for fan club members now through the 17th. We can't wait to see you there!