PopKidNick Twitch Channel FAQ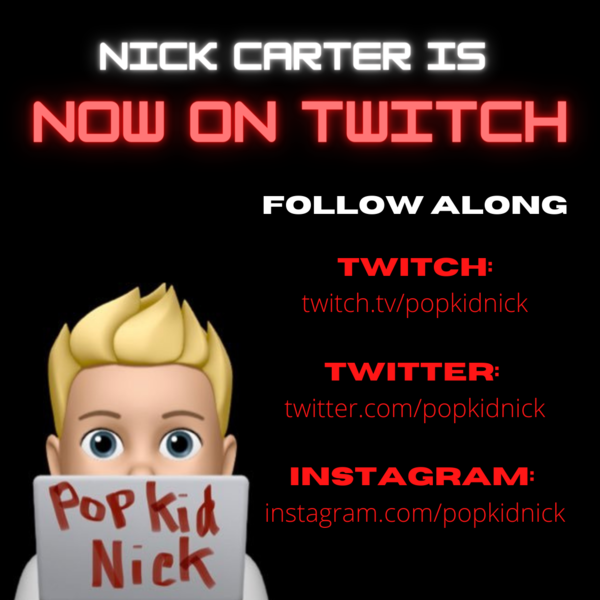 Nick Carter has been telling you to Quit Playing Games for years, but this year, he's doing the opposite. Nick is inviting EVERYONE around the world to join him on his official Twitch channel for chatting, gaming and exclusive announcements and content you won't be able to get anywhere else!
Since this is a new venture, there are lots of questions and you've come to the right place for answers. This news post will be continually updated with new information as more questions need answering and as Nick aka PopKidNick's Twitch channel evolves. (2021 UPDATE: Nick's Twitch channel has now changed to just Nick Carter)

Have a question you don't see answered here? Drop it in the comments below!

Fan Club members -- click here for a little more about what YOU can expect in the future!

What IS Twitch?
Basically, Twitch was created as a streaming service that allowed gamers to watch other gamers play video games to learn tips and tricks and chat with them. Since its creation, Twitch has also evolved into a platform where users are not only using it for gaming, but to play music, talk to fans, release latest info, and more.
How do I watch Nick on Twitch?
Click here or download the Twitch app and create an account if you haven't already. Once you've created an account, make sure to click "Follow" for PopKidNick and turn on notifications so you don't miss out when he goes live!
How will I know when I can watch him?
Nick will be letting people know the next time he's going live via his Twitter and Instagram pages for PopKidNick so make sure you're following along with turning notifications on. If you have the Twitch app on your mobile device, you will also receive a notification anytime he goes live.
What can I expect from this Twitch channel?
As we mentioned before and as Nick has mentioned in his streams so far, this is a new way for him to communicate with fans and share something he loves with the people he loves. He'll be taking questions from the chat, updating everyone on his latest projects, sharing stories, talking all things pop culture, and most importantly, playing video games! If you have suggestions about what you would like to see, drop it in the comments, the Twitch chat, or the fan club.
How do I play with Nick?
In order to potentially play video games with Nick, you'll have to join PC gaming platforms and purchase / download the same games. These are the ones where you will be able to find Nick:
Blizzard (Gamer Tag: popkidnick#1861)
His name is PopKidNick on all platforms, but some may require a gaming number tag - that info will be coming soon!
Once Nick decides which game he is playing that day, he will let you know which gaming system the game is on. He WILL have to accept you as a friend and he will be trying to play with as many people as possible so patience is a must. Watching is just as much fun!
What games has Nick been playing?
While he admittedly loves the classics like Zelda, Mario and Mortal Kombat, Nick has been playing various games on Twitch. We will try to keep them updated and linked here:
Do I have to be a gamer to enjoy the PopKidNick Twitch channel?
Absolutely not! This is for EVERYONE - Backstreet Boys fans, Nick Carter fans, gamers, or anyone looking for a fun time. Tell a friend!
How do I ask a question during the stream?
While the mods do pull questions from the chat during the stream, you'll also want to follow PopKidNick on Twitter as there are times that he will ask for questions prior to the stream beginning. If you'd like to ask a question DURING the stream, tag @neurotictonic and @katg87 in your question to make sure the mods see it.
Can I watch Nick's broadcasts when he's not live?
Yes. You can find all of Nick's past live broadcasts under the 'Videos' > 'Hightlights' section on his channel.
What are the benefits of subscribing to Nick's channel?
There are many! By subscribing to PopKidNick's channel, you'll get access to subscriber only streams (coming soon!), custom emotes (PopKidNick emotes coming soon!), a subscriber badge in the chat, first pick in viewer games and more!
You can subscribe by clicking SUBSCRIBE on his channel. You can also gift subscriptions to friends and other fans!
If I have Amazon Prime, can I get a free subscription?
Yes! You get a free monthly sub with your Prime account. Click here for details on how to do so.
What does each subscription tier include?
Tier 1 Subscription - $4.99
Ad-free viewing (with limited exceptions)
Chat during subscriber-only mode and not affected by chat slow mode
Watch Subscriber Streams (access depends on Subscription Tier)
Instantly unlock your first Sub Badge and show your support
Access to up to 20 exclusive emotes.
Tier 2 Subscription - $9.99
All Tier 1 Benefits
Tier 2 Badge Flair
5 exclusive emotes
1 emote modifier
Tier 3 Subscription - $24.99
All Tier 2 Benefits
Upgraded Tier 3 Badge Flair
5 additional exclusive emotes
2 additional emote modifiers
Access to special giveaways
If you click here, you can see exactly which emotes, badge flair, etc. are included.

PLEASE NOTE: You can not sub to anything above Tier 1 in the mobile app! You will have to use a computer or mobile web. Go to twitch.tv/subs/popkidnick for easier access.

I just paid for Tier 1, but I want to upgrade. Do I get a discounted rate if I renew before my sub expires?
No. You can upgrade before your subscription expires, but you will have to pay full price. For example, if you paid $4.99 for Tier 1, but you want to upgrade to Tier 2, no matter where you are in the subscription, you will have to pay $9.99.
To change tiers, go to twitch.tv > Click your user name in the top right corner > Click 'Subscriptions' > Click the "wheel" beside PopKidNick under 'My Subscriptions' > You will see your options there.
Keep in mind, your sub will auto-renew monthly (or however long you chose to renew it) unless you are a Prime subscriber (then you must manually renew). If you don't want to auto-renew in the tier you're in, you can click 'Don't Renew Subscription', so you can easily sub to another tier after your current sub is expired.
I know other gamers on Twitch accept tips. Are we able to tip Nick?
You sure can! Tipping is available at the link here using PayPal or credit card, which can also find on PopKidNick's "About" page on his channel. You can also purchase "Bits" to CHEER Nick on during the stream and donate money at the same time! Read more about this option here (scroll down to "Cheering: For Viewers").