Nick Heads Into The Studio For Next Solo Album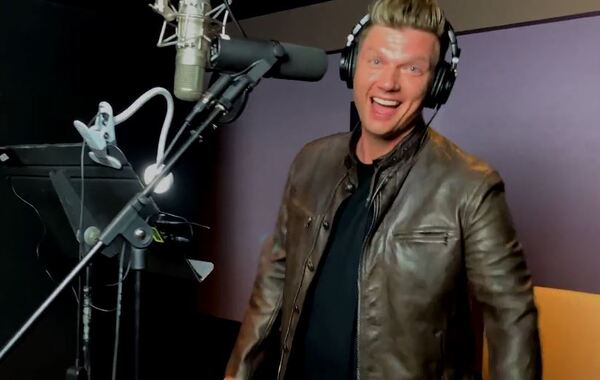 First it was a Twitch channel and now it's a solo album, but one thing is for sure, Nick is working extra hard this last half of 2020 to give fans something to look forward to.
After revealing via his PopKidNick Twitch channel that he would be working on a new solo album and bringing fans in for an exclusive sneak peek into the recording process on the channel, he did just that! Fans who subscribed to his Twitch channel were taken inside the studio via video to not only hear more about his vision for the project, but for Tier 3 subscribers and Nick Carter Fan Club members, to hear pieces of two new songs he has been working on. If you are a subscriber or a fan club member who missed these sessions, you can watch the replay at twitch.tv/popkidnick (subscibers) or by logging into the fan club and clicking here.
Nick also took some time out from recording to sit down and chat with ET Canada about his holiday traditions (Odin has a list for Santa!), an update on the Backstreet Boys and his own album (big things are coming!), and what his life has been like admist the pandemic (he's done a lot of dishes).
He also spoke to Celebrity Page with Las Vegas' Rachel Smith about the possibility of dropping a single by Christmas, as well as the work he is doing with Cure 4 The Kids. In his interview with Dean Smith from WGN, he elaborated on exactly what it is about Cure 4 The Kids that made him want to work with them and the extraordinary things they do for patients and families affected by pediatric cancer - watch here!
And if that wasn't enough to keep you busy keeping up with Nick Carter, he also dropped in on AJ McLean and Cheryl Burke's podcast, Pretty Messed Up Podcast, to talk about that stellar digital BSB DWTS performance, which Backstreet Boy he would marry and more. If you missed it live, you can now listen to it here (or anywhere that podcasts are available).
A Few More Interviews You Might Have Missed:
Nick Carter Is Releasing A New Solo Album Recorded During The Pandemic (K5 Evening)
Nick Carter Opens Up About New Solo Album, Supporting Children's Nonprofit (WSVN Miami)