Time For A PopKidNick Twitchmas Giveaway!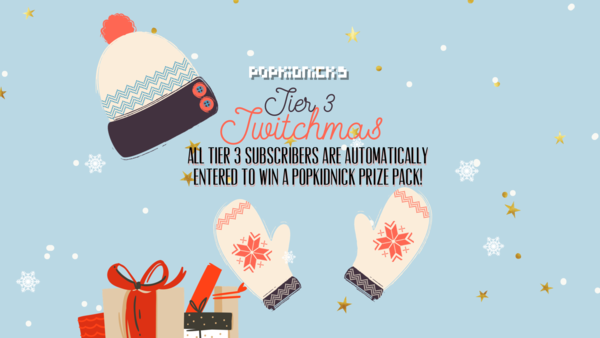 It's been a few months since Nick launched his
PopKidNick Twitch channel
and so many fans have been delighted to join in chats, streams, contests and with the promise of more to come.
Many of you have subscribed (if you haven't yet, you can find the details for each tier level
here
), have gifted subscriptions to others and have enjoyed perks from special emotes to exclusive stream access while Nick has been recording in the studio. 2020 is looking up, right??
One of the perks exclusive to Tier 3 subscribers is special giveaways and with the holidays just around the corner, we thought it was the perfect time to launch the first one! A little PopKidNick Twitchmas, if you will.
If you are a Tier 3 subscriber, you will automatically be entered to win a PopKidNick merch bundle! This requires no action from you... other than being a Tier 3 subscriber and being awesome! You must be subscribed by Monday, December 7th to be entered in the giveaway.
Here are the quick details:
- The PopKidNick merch bundle giveaway is ONLY for TIER 3 PopKidNick Subscribers
- You will automatically be entered if you are a member before 12/7/20
- You do not have to take any action on your end - we got you!
- TWO WINNERS will be chosen randomly on December 15th
- Winners will be contacted via email (To the email address associated with your account)
Can't subscribe to Tier 3 just yet? Don't worry! We'll have more opportunities in the future. After all, we're only getting started...