Hollywoodlife.com Interview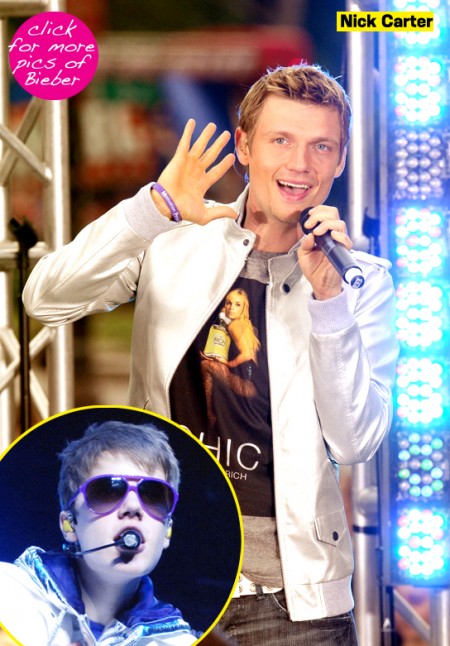 Justin Bieber: Chill Out, Paps Are Part Of The Game, Says Nick Carter! Exclusive!
The Backstreet Boys singer has teen-star advice for Justin – don't let all the attention get to you!

Nick Carter, who's been in the limelight since the age of 13 just like Justin Bieber has a message for today's teen idol — chill when it comes to the photogs who chronicle your every move!

"It's a part of the game. It's part of this industry and this life that you've chosen," Nick explains to HollywoodLife.com exclusively. "You have to find some kind of relief and just chill out."

Backstreet Boy Nick knows that that even young stars can eventually learn to just ignore the craziness of the bright lights. Now, he says, "I don't pay attention to it. The paparazzi don't bother me."

Instead, Nick focuses on what lies ahead — the release of his second solo album. I'm Taking Off hits iTunes on May 24 and Nick's super-excited to share it with his fans. Last week, the first single from the album, "Just One Kiss," debuted.

"The song is a general song — a fictitious situation based on experience that we've all had," Nick tells us. "It's really about a person who is desperate in a relationship who wants to amend the things that they've done wrong."

"I won't lie, there probably has been times that I've been that person," he continues. "So in order to sing and write that song, you have to have something to relate to."

The song on the album that really hits home for Nick is "Addicted." "That song is about being in a relationship and knowing that you are screwed," he says. "You love that person and you're addicted."

"I'm in a relationship right now — two and half years," Nick says. "For me, I found someone that surprises me every day."

And for Nick, love beats out any other addiction: "I've had problems with drugs and alcohol in the past…I don't think the drug of alcohol or any other substance on this planet can compare to the addiction of love."

BFFs — Are you excited about I'm Taking Off?